Eco Gold Flip Half Pad-Jumper
Regular price
$279.00 USD
Regular price
Sale price
$279.00 USD
Unit price
per
Sale
Sold out
Description
The innovative Flip half pad – Jumper brings much more than good looks. ECOGOLD's engineering team have raised the bar to create the most technically-advanced half pad, providing the highest level of protection, breathability, and safety.
– Non-slip surface on both sides keeps your saddle secure.
– Hypoallergenic, 100% breathable.
– Air-Vent and breathable materials to promote air-circulation and keep your horse comfortable.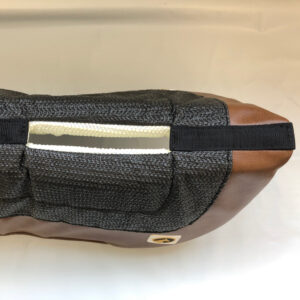 – Premium High Resilience Foam is used in your half pad for jumping. The highest level of protection for your horse. Offering superior supporting force and durability than conventional foam or memory foam (low resilience), High Resilience Foam reduces pressure at the points of greatest weight and quickly springs back after impact to provide support and protection to your horse's back.
– Removable inserts with opening for the perfect saddle fit.
How thick is The Flip? The Flip half pad – jumper comes with a 3/4″ Premium High Resilience Foam layer but since this pad has pockets, you can adjust it to your desired width. Made with ECOGOLD's superior craftsmanship you know and love, this awesome half pad would also make a great gift for any equestrian.
Share